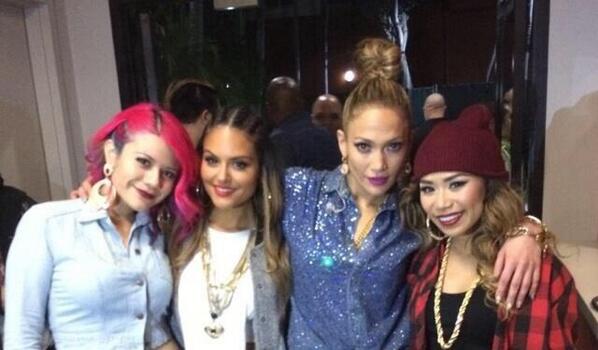 Three "American Idol" alumnae rehearsed for two weeks to perfect their vocal harmonies on "I Luh Ya Papi."
There was an American Idol reunion on Thursday night's results show as three alumnae from three different seasons were together again for the first time. Allison Iraheta, Pia Toscano and Jessica Sanchez provided backing vocals and extraordinary harmony for Jennifer Lopez' performance of her new single, "I Luh Ya Papi." And it all began with a DM from J. Lo to season 11 runner-up Sanchez.
"She DMed me on Twitter, which was pretty insane," Sanchez told The Hollywood Reporter right after Thursday's live show. "I thought, oh my gosh, J. Lo is DMing me!" Voicemails and texts to Iraheta and Toscano invited them to join Sanchez at Lopez' home two weeks ago to begin rehearsals.
"She taught us the harmonies and then we learned a little choreography," says Sanchez. "Yeah, how to do the nae nae," Iraheta interjected. "It was so amazing talking with Jennifer and getting all this advice from her," says Toscano. "It meant so much to me because this industry is no picnic and you need someone like her to say, 'You know how many doors were slammed in my face? You can't let it discourage you.' I left the house and thought wow, this is why I do what I do. And had I not been on Idol I wouldn't have gotten this call."
It wasn't just working with Lopez that allowed the three Idols to enjoy the work so much. "When I found out I'd be with these two, it was very special," says Toscano. "Our voices really compliment each other, which doesn't happen often. Jessica has this incredible middle alto and Allison has this whole low, raspy voice." "And Pia has a range of seven billion octaves!," Iraheta exclaimed.
While this was the first time these three finalists have sung together, they have known each other for some time – and not from American Idol. "I went to pop camp with Jessica when she was 12 and I was 14," says Iraheta. "She murdered the stage every day."
"Before I auditioned for Idol, I was obsessed with Allison," says Toscano. "And I've been following Jessica since she was a little bitty thing. I saw her on America's Got Talent when she sang 'I Surrender.' It was the best thing ever."
Read more at: The Hollywood Reporter